The European Payment Services Directive PSD2, KYC (Know Your Customer) and anti-fraud measures are paving the way for the widespread use of identity verification and two-factor authentication to access certain online services. We can help you to deploy the ID Verification solution to verify digital identities and perform biometric authentication.
Digital identity verification in line with regulations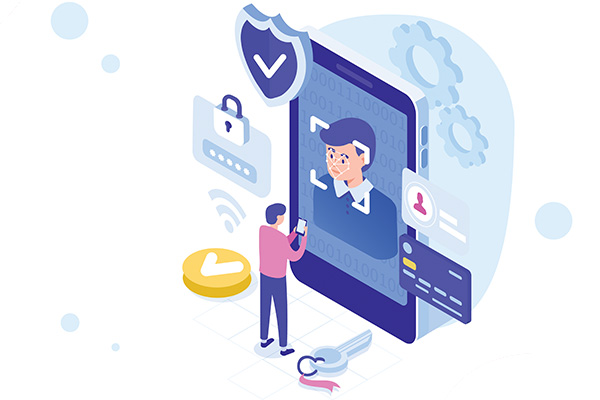 Developed by Thales (formerly Gemalto), the ID Verification solution verifies the identity of clients on cell phones or computers and performs biometric authentication via facial recognition. It offers your clients a simple, digital way to register and be authenticated online.
The ID Verification solution checks:
Identity documents
Client authentication using biometric facial recognition technologies
Risk assessment via consultation of PEPs (Politically Exposed Persons) and risk lists
Registration or access to regulated services online is simplified by the identity verification result and automatic form completion.
We integrate the ID Verification solution and develop mobile applications with the following embedded features according to your business needs:
Recording of biometric data prints and facial recognition authentication
Identity document capture (ID card, passport, driver's license)
Authentication via biometric facial comparison (selfie and ID document photo)
Identity verification by contextual and behavioral connection analysis
We conduct multi-device (up to 30 smartphone and tablets), multi-OS (iOS and Android) and multi-country (ID documents from 10 European countries) testing.